38175 / 38175-D
The all-new Edge Jammer Cold Air Intake is designed to optimize your truck's performance and pairs perfectly with all of our tuning products!
Introducing Edge's all-new Jammer Cold Air Intake (CAI) systems. The Jammer Cold Air Intake's revolutionary design improves airflow by blocking hot air and using cooler, denser air for optimal efficiency.
Edge performance tuning, combined with the Jammer Cold Air Intake, offers best-in-class results for maximum performance and improved continuous power.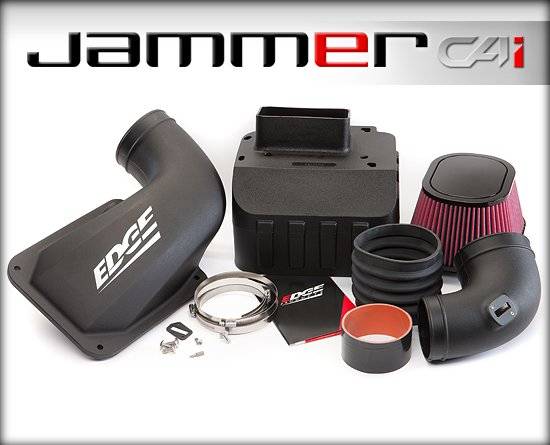 How does the Jammer Cold-Air Intake Work
The Jammer Cold Air Intake design was engineered to move the intake box away from the engine's heat to reduce warm air flow and catch the cooler outside air. Moving the air filter helps capture the outside cooler air that can be sucked into the engine for combustion. Cooler air brings more oxygen (denser air) into the combustion chamber and that means more power. When combining cooler more dense air to the engine you are able to have a more efficient combustion as well as add more fuel equaling more power.
The Jammer Cold Air Intake uses a large diameter intake tube that is smoother, has fewer bends and wider providing uninterrupted airflow. By itself, you'll notice an increase in power and especially when the throttle is fully open. Team up the Jammer intake for a diesel or gas truck with other Edge performance products and you'll create a much more efficient system with maximum gains in power, mileage, and efficiency.
Jammer Cold-Air Intake Features
High Density, Cold Air Intake
Increased Horsepower & Fuel Economy
Compatible with Edge Tuning Products
Enclosed or Open Housing for Superior Cool Airflow
Improves Continuous Power
Lifetime Reusable Filter Options
Dry Filter Options Available*
High Flow, Low Restriction
Pre-Oiled or Dry Filter Options
The team at Edge is thrilled to unveil our Jammer line of intakes and extend our superior product offering. The best tuning in the industry now has a complimentary product built to last and impress. Buy your Jammer CAI today!