H&S Motorsports High Flow Intake Manifold
212001-1 / 212001-2
The OEM intake manifold on a 6.7L Cummins is designed around factory ECM programming. When aftermarket programming is being utilized, this opens the door to remove the restrictive OEM intake manifold and replace it with the High Flow Intake Manifold from H&S Motorsports.
This kit will include everything necessary to replace your OEM intake manifold.
Includes:
One High Flow Intake Manifold
One 4" to 3" Reducing Coupler
One 4" Clamp
One 3" Clamp
One OEM Intake Manifold Gasket
One EGR Crossover Plug
One OEM Intake Manifold Bolt
One H&S Dipstick Bracket
One Dipstick Bracket Hardware
One Full Color Instruction Manual
Note:
**Does NOT fit Cab and Chassis models**
Warning:
This product is not legal in the state of California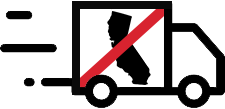 This product is not available for sale in the state of California.