772441-5002
Today's high efficiency light duty diesels deserve the best components when optimizing for power, response, and efficiency. The PowerMax Turbo is a diesel upgrade turbo promising to lower EGTs (Exhaust Gas Temperatures) and provide massive airflow improvements over your stock turbocharger.
Description:
GTP3788VA turbos features Advanced Variable Nozzle Turbine design for increased compressor flow & boost response utilizing movable vanes significantly increase turbine efficiency & improve performance from idle launch through peak torque
The patented integral electro-hydraulic actuation and proportional solenoid for infinitely variable control with larger compressor wheel increases maximum power range while keeping turbo speeds down for the same power output
Supports up to an additional 175 HP over stock with no sacrifice in drivability
Suitable as a performance upgrade or replacement of original equipment with a perfect fit each and every time
NOTE: Not for sale on licensed California vehicles
Warranty:
Parts
Note
Electrical components have a 30-day warranty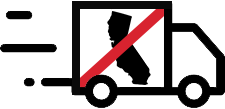 This product is not available for sale in the state of California.