7303
The Predator 2 for is a plug and play performance programmer for Dodge and Ram diesel equipped 2500/3500/4500 trucks.
Predator 2 will increase the truck performance dramatically and makes a huge difference in towing capabilities.
Get all of the power you need without even popping the hood!
*Note: CMR Custom Tunes not Available on this Product
NOTE: This product is not available for use with custom tuning software.
The Predator also lets you calibrate the truck speedometer for aftermarket axle ratios or larger than stock tires, as well as remove the truck speed limiter.
High-definition, 2.8" color screen
Easy to use 5 button interface
Increased memory with faster processor for improved tuning & updating speed
Performance tuning for Economy, Towing, Daily Driving, & Extreme Tuning
Eliminate downshifting when climbing hills Speedometer correction for changes in tire size and gear ratio*
Adjust speed & rev limiters*
Tuning for shift points, shift firmness, & TQ management*
Internet updateable with all-new update software via USB
Active fuel management control*
Vehicle parameter monitoring capabilities
Read & clear diagnostic trouble codes
Compatible with other performance upgrades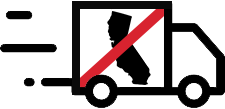 This product is not available for sale in the state of California.