Billet Intermediate Shaft | 89 - 02 7.3L Powersroke
3049203104
The ATS Billet intermediate shaft is part of the back bone of your Ford Powerstrokes transmission. It is the first hard part to bring power into the transmission and transmit that power to the wheels. With no dampening or power loss other than the torque converter, the shafts in your transmission have a lot to handle. Now add power, weight from a trailer, bigger tires (and is some cases all these things together) and you will be well beyond what that factory shaft was designed for.
The theory behind billet shafts is not quite what you may have in mind. The key to success is not to make the shaft "stronger" necessarily, but give it the ability to absorb more torsional load. The way we do this, is by using billet shafts, they have the ability to rotate further with out breaking. This is going to give the transmission more "give" and allow it to transmit more torque and more load with out breaking.

Along those lines, breaking a shaft can lead to costly repairs.

ATS Billet Shafts Benefits:


Unsurpassed reliability


Able to handle high power applications


Great for towing


Increases torque capacity


Good way to help ensure you transmission does not break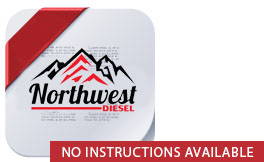 Ford Powerstroke E4OD/4R100 (Recommended over 700HP)