BD Diesel Wastegated Exhaust Manifold Gasket Set
1045996-T4
Better cylinder exhaust evacuation to keep EGTs down
Description:
Gaskets are available separately
Better cylinder exhaust evacuation to keep EGTs down
Combustion Pulse remains constant with the W/G valve closed
Machined for use with 45mm Hyper Gate or Turbo Smart
Block off plate and clamp provided
Gate port area is 1.67 sq. in. - 33% of T4 / 12% of T6 inlet
Improves turbo response
Warranty:
Parts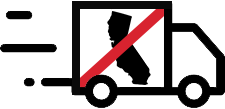 This product is not available for sale in the state of California.