BD Diesel VE Pump Fuel Pin & Spring Kit
1040178
You will notice the quality of the fuel pin surpasses all others in the aftermarket. Increases of 30-40 hp and 90-100 ft. lbs. of torque and increases power band by a whopping 30%! The pin is made from Chromoly steel, hardened to factory specification and then precision ground.
Description:
Pins heat treated to the 52 Rockwell hardness scale
Dual machine process overcomes wear patterns and resulting failure
3200 rpm governor spring extends engine rev range by 700 rpm
New low-profile spacer washer and new throttle shaft O-ring
Warranty:
Parts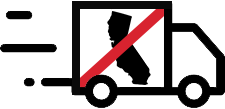 This product is not available for sale in the state of California.