Aurora 5000 Turbo Kit | 03 - 07 5.9L Cummins
2029502272
The Aurora 5000 is an extreme high performance turbo charger that is great for added horsepower and torque on your 03+ Dodge 5.9L Cummins. The 71mm inducer on the turbo is a significant jump in performance over the stock charger. This turbo has the capability to reach over 850hp with supporting fuel modifications and aggressive tuning.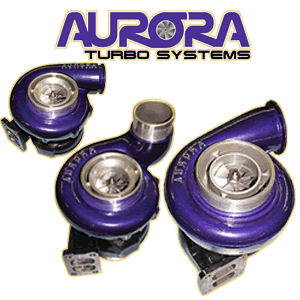 The ATS compressor wheel is one of the strongest on the market, and has the ability to run higher pressure ratios without fin deflection or fatigue. It is also capable of being spun harder and faster and keep its form even after thousands of heat cycles.
Overview AURORA 5000 (approx. 95 lbs./per min)


Ability to support 850hp


More efficient and powerful torque curve


Designed for street/drag strip/sled pulling performance


Lower EGTs under higher horsepower applications


Reduces turbo "bark" due to ported compressor housing design


Great performance gains


Perfect for high HP applications


Great for racing and competition, while maintaining the ablility to still be relatively streetable

Billet Compressor wheel: 71mm inducer (2.8 in) - 7 Blade

Billet Compressor wheel: 100mm exducer - 14 Blade

Turbine wheel: 83mm inducer - 10 Blade

Turbine wheel: 74mm exducer - 10 Blade

A/R housings: .76, .85, 1.0, or 1.10

T3 or T4 exhaust flange
This turbo is not the ideal choice for towing heavy loads, however, some customers have positive feedback about daily driving with this turbo.
Kit Includes:
Complete with all hardware, 5 to 4-inch reducer boot and 3.5-inch compressor discharge pipes (S1&S2), Boost levels of 70 PSI are possible with this turbo. NOTE: Recommended use of head studs with this turbo kit
Warranty:
ATS turbos come with a 3 year / 150,000 mile warranty.