AFE Power Momentum HD Pro 10R Cold Air Intake System
50-74008
Premium Hardware: High quality premium clamps ensures the most secure installation available. Momentum intakes are designed with fewer parts for a quick and simple installation.
Unique One-Piece High Quality Housing W/ Sight Window: A custom CAD designed roto-molded housing made from heat soak resistant material eliminates the use of multiple components and ensures the coolest air intake charge available. A large clear sight window allows for filter inspection without removal of the air box. The roto-molded housing is made out of black cross-linked polyethylene. A urethane plug is also included if you wish to block off the auxiliary air inlet.
DETAILS:
+15 HP and +37 lbs. x ft. Torque max gains
Outflows factory intake by up to 59%
CAD-Designed Roto-Molded Intake Tube
High Quality One-Piece Sealed Housing with Auxiliary Air Inlet
10-Layer Progressively Finer Cotton Gauze Oiled Media for Maximum Performance
Built-In Sight Window Provides Easy Inspection of Filter Without Disassembly
Unique (Patent Pending) Filter-to-Housing Interface for Easy Installation
No Cutting or Drilling on Factory Parts for Faster Installation
High Quality Tube:
This system uses a high quality plastic CAD designed, dyno-tuned, roto-molded designed intake tube to fit with the stock mechanical fan and achieve maximum power gains while maintaining a perfect fit.
Huge Pro 10R Performance Air Filter:
The Momentum HD intake is designed around a massive 1,000cfm performance 360 degree radial flow air filter with 10-layers of progressive cotton media providing 99.59% cumulative efficiency (independently tested). The unique air filter to housing interface (patent pending) allows for maximum filter size which increases the available air volume while simplifying the installation process. The air filter is wrapped in reinforced metal providing maximum strength to prevent filter collapse.
Note:
This intake system is not CARB exempt at this time and is not legal for sale in California or use on vehicles registered with the California Department of Motor Vehicles.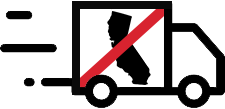 This product is not available for sale in the state of California.