AFE Power BladeRunner EGR Cooler
46-90073
Core Charge! No Core Exchange!
aFe Power is proud to introduce the square body direct replacement EGR Cooler for 2004-2007 V8-6.0L (td) Ford Powerstroke trucks. This EGR Cooler is a 100% new unit, not remanufactured. The cooler utilizes larger than OE diameter tubes with a thicker wall to reduce clogging, extend life and resist failure. The unit is TIG welded and pressure tested at the factory.
New Construction:
aFe EGR coolers are constructed from new stainless steel components. All connections are welded not brazed, for reliability.
Direct-Flow Design:
7-large diameter flow-through tubes resist clogging, resulting in extended life of the cooler. The heat exchanger tube wall thickness is more than twice as thick as the OE unit.
Gasket Kit:
The complete gasket kit includes all required components for the removal and replacement of the EGR cooler. Sold Separately.
Also Fits:
Ford Excursion 04-05 V8-6.0L (td)
Legality:
This item is not CARB exempt at this time and is not legal for sale in California or use on vehicles registered with the California Department of Motor Vehicle.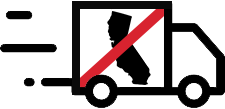 This product is not available for sale in the state of California.
Ford Excursion (Powerstroke)