Banks Power Monster Exhaust System w/Dual Tips
49784 / 49784-B
Tested and refined by Banks engineers using Computational Flow Dynamics software, then validated through extensive temperature testing in all areas: before and after the DPF, 6 inch out from the tip, by the spare tire, shocks, wiring, hoses, and more.
Flows up to 80% better than stock! Cooling as much or more than stock without killing flow is a major challenge. But Monster Exhaust wins on both counts and increases fuel efficiency in the process.
The system safely clears the spare tire, shocks and brake lines, and includes two huge 6X5 inch ob-round (patented design) angle-cut rolled-edge tailpipe tips in your choice of polished chrome-over stainless or high-temp black!
And to help keep them looking good, there's 1/2 inch air gaps to keep heat from tarnishing the finish. Adjustable clamps let you position them on the tailpipes just right.
Please note:
These exhaust systems do not fit Cab/Chassis models.
Dual exhaust not available for duallies.
Banks Monster Exhaust for the 6.4L is available in the following configurations: Side Single. Side Duals. Split Side Duals. Side Quads.
Note: The side quad exhaust will NOT allow the spare tire to be reinstalled in the stock location.
Testing and Validation - Computational Fluid Dynamics (CFD) software: Bank's engineers input active regeneration DPF outlet temperatures into the computer, then run flow dynamics analysis to show the cooling effect of the CoolCuff design all along the flow path. Banks Has the Solution. Engineered CoolCuff design. The diesel particulate filter (DPF) reduces smoke by turning it to ash through regeneration. This can heat exhaust gas temps to 1,100 deg+ at the DPF outlet! Banks Monster Exhaust with CoolCuff reduces these dangerous temps as much as or more than stock while also cutting backpressure and improving fuel economy.
Features
Mandrel bent Stainless Steel construction
Virtually eliminates backpressure
Lowers exhaust gas temps
Dramatically improves flow
Maximum Airflow
4 inch constant-diameter DPF-back
CoolCuff cools temps
Improves flow up to 50%
Cuts back pressure up to 40%
CHROME or Black tips
Fits all wheel bases
Spare tire relocation required
Does not fit Cab/Chassis models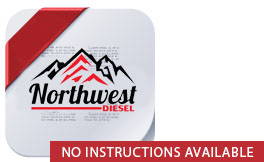 6.7L Powerstroke Diesel, Extended Cab, Crew Cab, Short Bed, Short Wheelbase