MBRP 4" SLM Series Downpipe-Back Competition Exhaust
S6004SLM
Aggressive sounding system
409 Stainless Steel construction
Comes standard with Muffler Delete
Two-piece tail pipe configuration
Available for Diesel only
Limited 5-year warranty
Built from 16 gauge T409 stainless steel our SLM Series performance exhaust systems offer a value price without compromising on the quality built into every component. Featuring a two-piece tail wee replaced the muffler with an MBRP muffler delete pipe to provide you with the ultimate in free flow exhaust.Constructed to the same specifications as the top of the line Pro Series MBRP back this line with a 5 Year Warranty.
Please Note: This series may, with time, develop surface rust which is not covered by the warranty. Wintry road conditions and road treatments may accelerate this process.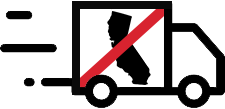 This product is not available for sale in the state of California.