MBRP 4" Black Series Downpipe-Back Exhaust
S6004BLK
Using a high heat coating that is designed specifically for exhaust applications, our new Black Series is sure to turn heads and provide excellent performance for years to come. Utilizing the same manufacturing processes as other MBRP stainless systems you know these systems will fit right the first time. The Black Series features a 1 Year Warranty on the coating and a 3 Year Warranty on the exhaust components.
High-heat durable black coating
100% Aluminized Steel
Welded On Hangers
Tip Included (4" Systems)
3 YR Warranty (parts)
1 YR Warranty (coating)
* Black ceramic finish on all components including steel tip
* 3 Year Warranty on Components, 1 Year on Finish
* Rich, mellow exhaust note
* Installs with common hand tools
* Can improve fuel economy by 1-2 mpg
* Boosts torque and horsepower
* Includes Front Pipe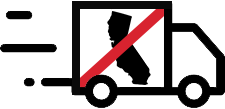 This product is not available for sale in the state of California.