K&N 63 Series AirCharger Air Intake System
63-3087
Guaranteed horsepower gain
Designed to improve throttle response and engine sound
Free-flowing polyethylene intake tube
Replaces entire factory air intake system
K&N Million Mile Limited Warranty
Lasts up to 100,000 miles before service is required (depending on driving conditions)
Easy to install, usually in 90 minutes or less
The K&N 63-3087 AirCharger air intake system replaces the restrictive factory air filter and air intake housing in some Chevrolet Silverado 2500 HD / 3500 HD and GMC Sierra 2500 HD / 3500 HD models. K&N intakes are designed to dramatically reduce intake restriction as they smooth and straighten air flow. This allows your engine to inhale a larger amount of air than the factory air filter assembly.
More air means more usable power and acceleration throughout the engine's RPM range.
The 63-3087 air intake comes with a black metal topped K&N high-flow air filter and a heat shield that installs into the original air box space. Air is directed through an aerodynamically engineered intake tube into the engine's turbo inlet for a guaranteed power gain. The tube accommodates the factory mass air sensor, humidity sensor and filter minder (where equipped).
The oversized cone shaped air filter can be used for up to 100,000 miles before servicing is needed depending on driving conditions. This air intake is relatively easy to install usually in 90 minutes or less using existing factory mounting points.
The tools needed are a screwdriver, ratchet set and some wrenches.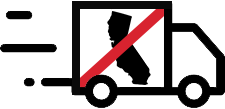 This product is not available for sale in the state of California.
Chevrolet Silverado 2500/3500 HD
GMC Sierra 2500/3500 HD