Bushwacker Pocket Style Fender Flare | Set of 4 - Color Matched Set
Bushwacker's rugged, iconic Pocket Style® Fender Flares allow for more tire coverage and more clearance for trucks and SUVs while protecting the vehicle from dirt and debris.
These flares are now available pre-finished to match the paint on your new RAM 2500/3500, plus they have the edge trim and stainless steel hardware pre-installed for quick and easy installation and a perfect fit-no drilling required.
Made in the USA from sturdy Dura-Flex® 2000 material, these flares are warp-resistant and tailor made for each application.
Despite their bolted-on appearance, these flares install easily without drilling for a secure fit. And since they're ready to install out of the box, there's no waiting on paint, and no hassle with installation.
Highlights:
Adds up to 2.60 in. of tire coverage, easy install
pre-finished in Flame Red Clear Coat (Paint Code: PR4)
Strong Dura-Flex® 2000 material
Limited lifetime warranty, materials & 3 yr finish
Made in the USA
Front Pair Part # 50047-02
Rear Pair Part # 50038-02
Replacement pair part numbers are matte black only
Front Flare Tire Coverage: 2.60 in.
Rear Flare Tire Coverage: 2.00 in.
Front Flare Height: 4.75 in.
Rear Flare Height: 4.75 in.
Front Aftermarket Bumper Compatible: No
Rear Aftermarket Bumper Compatible: Yes
Fitment Note: Ensure color match by confirming vehicle paint code - commonly located on the driver door jamb or in the glove box., Dually Model Compatible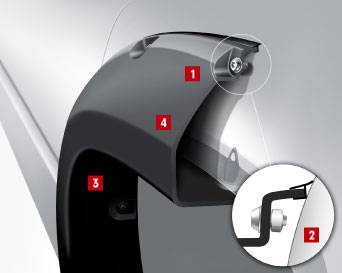 Bold Style & Design Is As Tough As It Looks

Stainless Steel Bolts Do Not Touch Vehicle Body

Dura-Flex 2000 Material Is Built To Last

Color-Matched Finish (optional)
Bushwacker products are designed to be installed by everyday people, incorporating full color images and easy-to-follow steps in a simple Acrobat PDF file that makes the process a fun project!
This part features a #1 installation rating from Bushwacker.

The number 1 installation rating is their easiest rating, requiring simple tools, minimal time, and little to no experience with modifying your vehicle. If you can change your wiper blades, you can do this with no sweat. All number 1 install ratings require no drilling or cutting to your vehicle.