Bushwacker OE Style Fender Flare | Set of 4 - OE Matte Black
Give your Chevrolet or GMC the appearance of an upmarket trim level with Bushwacker "OE" Style® Fender Flares. They install in minutes with only minimal drilling. And, they're designed specifically to complement your vehicle's styling, so it looks like it came from the factory that way, with a fit, finish, and level of protection that exceeds original equipment.
You can leave your "OE" Style® Fender Flares with their original matte black finish for a sporty, blackout look. Or, paint them to match or accent the body color for the look of limited-edition luxury or something completely customized.
Your "OE" Style® Fender Flares are made with Dura-Flex® 2000, our exclusive material designed for upgraded durability and flexibility. They're thick too, so they won't warp.
And, they're 100% UV protected, so they won't chalk. "OE" Style® Fender Flares deliver premium-grade protection with premium-level style.
Highlights:
dds up to 1.25 in. of tire coverage from debris
Installs neatly in minutes with minimal drilling
OEM matte black smooth finish is easy to paint
100% UV protected Dura-Flex® 2000 - no chalking
Made in the USA with a Limited Lifetime Warranty
Front Pair Part # 40027-01
Rear Pair Part # 40028-01
Front Flare Tire Coverage: 1.25 in.
Rear Flare Tire Coverage: 1.25 in.
Front Flare Height: 4.50 in.
Rear Flare Height: 4.75 in.
Front Aftermarket Bumper Compatible: Yes
Rear Aftermarket Bumper Compatible: Yes
Fitment Note: For Tahoe and Yukon Models this part is compatible with the 2-door Sport Utility Body Style only, Does not fit dually models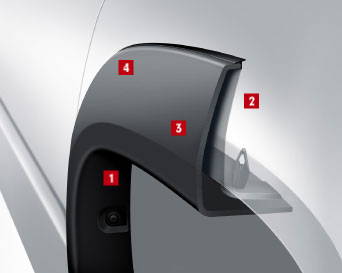 OEM Quality Hardware That's Built To Last

Load Engineered To Grip The Side of The Vehicle

Dura-Flex 2000 Material Lasts A Lifetime

Matte Black Finish Looks Great Painted Or Not
Bushwacker products are designed to be installed by everyday people, incorporating full color images and easy-to-follow steps in a simple Acrobat PDF file that makes the process a fun project!
This part features a #2 installation rating from Bushwacker.
A number 2 installation rating can require typical garage tools and some experience, and sometimes require more time and drilling into existing plastic components such as a wheel well liner or moulding. If you're familiar with basic shop tools, a number 2 install rating should be no problem for you.