Bushwacker Extend-A-Fender Flare | Set of 4 - OE Matte Black
You've equipped your GMC Sierra with oversize wheels and tires for serious off-road traction and style. Now you need extra tire coverage to protect your rig's body and maybe even comply with local laws. Bushwacker Extend-A-Fender® Flares deliver premium-grade protection and style matched to oversized tires.
Yet, as tough as they are, they go on easily with minimal required. You can install them in minutes and enjoy them for years - our exclusive Dura-Flex® 2000 material is designed for added durability and flexibility, with built-in UV protection.
Your Extend-A-Fender® Flares resist chalking, cracking, and warping, whether you leave them with their OEM-style matte black finish or paint them for a totally personalized look.
Either way, your Sierra will look factory-equipped for your big off-road tires. Extend-A-Fender® Flares go on easy, perform tough, and look great.
Highlights:
Adds up to 1.25 in. of tire coverage from debris
Installs neatly in minutes
OEM matte black smooth finish is easy to paint
100% UV protected Dura-Flex® 2000 - no chalking
Made in the USA with a Limited Lifetime Warranty
Front Pair Part # 40131-02
Rear Pair Part # 40100-02
Front Flare Tire Coverage: 1.25 in.
Rear Flare Tire Coverage: 1.25 in.
Front Flare Height: 6.00 in.
Rear Flare Height: 6.00 in.
Front Aftermarket Bumper Compatible: Yes
Rear Aftermarket Bumper Compatible: Yes
Fitment Note: Does not fit dually models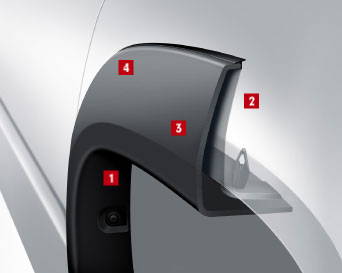 Made Of Our Proprietary Dura-Flex 2000 Material

OEM Quality Attachment Hardware

Load Engineered To Grip The Side of The Vehicle

100% Pure Matte Black Finish (paintable)
Bushwacker products are designed to be installed by everyday people, incorporating full color images and easy-to-follow steps in a simple Acrobat PDF file that makes the process a fun project!
This part features a #2 installation rating from Bushwacker.
A number 2 installation rating can require typical garage tools and some experience, and sometimes require more time and drilling into existing plastic components such as a wheel well liner or moulding. If you're familiar with basic shop tools, a number 2 install rating should be no problem for you.