Bushwacker Cut-Out Style Fender Flare | Rear Pair - OE Matte Black
For extreme off-road use, there's nothing else like Bushwacker Cut-Out™ Fender Flares. Each set of Cut-Out™ Fender Flares is individually designed for your Ford Super Duty, to maximize off-road wheel travel and maintain adequate tire coverage. That custom approach means a smoother appearance, greater strength, andeasier bolt-on installation with tough stainless steel hardware.
As the name says, Cut-Out™ Fender Flares require cutting body sheet metal to achieve maximum articulation and coverage for oversized tires (see the installation guide for your specific model for complete details).
Cut-Out™ Fender Flares are made from thick, warp-proof Dura-Flex® 2000, our own proprietary material, engineered for added durability and flexibility in severe conditions.
Its UV protection guards against chalking, while its pro-grade matte black finish looks great as-is, or custom painted to create your own personal look. Cut-Out™ Fender Flares offer extreme performance with style to match.
Highlights:
Adds up to 4.50 in. of tire coverage from debris
Sheet metal removal maximizes wheel articulation
OEM matte black finish is easy to paint
100% UV protected Dura-Flex® 2000 - no chalking
Made in the USA with a Limited Lifetime Warranty
Front Part # 20043-02 or 20047-02
Rear Flare Tire Coverage: 4.50 in.
Rear Flare Height: 5.00 in.
Rear Aftermarket Bumper Compatible: Yes
Fitment Note: Does not fit dually models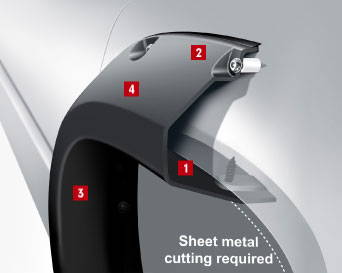 Designed For Max Tire Clearance And Coverage

Stainless Steel Hardware Is Built To Last

Tested And Tough Dura-Flex 2000 Material

Matte Black Finish Is Great Unpainted or Painted
Bushwacker products are designed to be installed by everyday people, incorporating full color images and easy-to-follow steps in a simple Acrobat PDF file that makes the process a fun project!
This part features a #3 installation rating from Bushwacker.
A 3 installation rating is not something to take lightly, although our color pictures and detailed guide will step you through the process in the best way possible. Typically you'll need sheet metal cutting tools and have the experience with them to make the process go smoothly. The hard work and time involved will be worth it, though, giving your rig a custom look that can't be beat!