Bushwacker Boss Pocket Style Fender Flare | Set of 4 - OE Matte Black
With their surface-mounted stainless steel bolts and massive presence, Boss™ Pocket Style® Fender Flares are a Bushwacker exclusive. Despite their aggressive bolt-on styling, Boss™ Pocket Style® Fender Flares install in minutes, with only minimal drilling required.
They're custom-designed for your GMC Sierra to complement oversized tires and high-clearance lift kits. You can mount them right out of the box, with their tough, OE-style matte black finish - they're UV protected so they won't chalk. Or, paint them to match or accent the body color, for a factory-custom look.
Boss™ Pocket Style® Fender Flares are made in the USA from our thick, warp-resistant Dura-Flex® 2000 material, tailor-made for added durability and flexibility on the trail.
When you need maximum tire coverage with minimum time and effort, it's in the pocket. Boss™ Pocket Style® Fender Flares from Bushwacker.
Highlights:
Adds up to 3.25 in. of tire coverage from debris
Installs neatly in minutes
OE matte black finish is easy to paint
100% UV protected Dura-Flex® 2000 - no chalking
Made in the USA with a Limited Lifetime Warranty
Front Pair Part # 40135-02 or Rear Pair Part # 40118-02
Front Flare Tire Coverage: 3.25 in.
Rear Flare Tire Coverage: 2.75 in.
Front Flare Height: 6.75 in.
Rear Flare Height: 7.00 in.
Front Aftermarket Bumper Compatible: Yes
Rear Aftermarket Bumper Compatible: Yes
Fitment Note: Does not fit dually models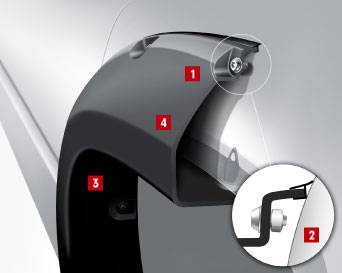 Bold Style & Design Is As Tough As It Looks

Stainless Steel Bolts Do Not Touch Vehicle Body

Uses Our Toughest Dura-Flex 2000 TPO Material

100% Pure Matte Black Finish (paintable)
Bushwacker products are designed to be installed by everyday people, incorporating full color images and easy-to-follow steps in a simple Acrobat PDF file that makes the process a fun project!
This part features a #2 installation rating from Bushwacker.
A number 2 installation rating can require typical garage tools and some experience, and sometimes require more time and drilling into existing plastic components such as a wheel well liner or moulding. If you're familiar with basic shop tools, a number 2 install rating should be no problem for you.