BD Diesel Rumble B 5" Air Intake Kit
1405710
BD Diesel custom intake and air box. Keeps your intake temperatures low and horsepower high. Avoid horsepower robbing heat soak and elevated intake temperatures from your engine bay.
Exclusive BD Velocity Stack 8in OD Air Filter out performs the competition
5in outlet
C/w sensor ports
This system is intended only for use with BD Power Rumble B Turblo Kits
Warranty
Parts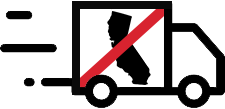 This product is not available for sale in the state of California.