BD Diesel Injector Nozzle Set
1075885
Extruded honed OE quality nozzles
Stage 1 60hp up to 250hp, 33% to 123% over
No warranty available on this product unless there is documented proof nozzles were installed by a reputable fuel shop with proper common rail injection test benches and flow matched. If this is the case the warranty will be 30-days, 90-days if done at BD/VFI. Increased fuel pressure will void the warranty.
Qualified technician and equipment required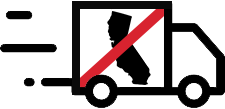 This product is not available for sale in the state of California.