Airaid Modular Intake Tube
300-986
Getting more air into your engine means more horsepower, torque and acceleration. AIRAID Modular Intake Tubes (MIT) can improve airflow up to 400 CFM over the restrictive stock intake tube.
Made from cross-linked, high-density polyethylene, AIRAID Modular Intake Tubes straighten out air flow by providing a smooth, unrestricted path that increases air flow to the engine.
With the AIRAID MIT, additional horsepower and torque can be had with just simple tools and a few minutes for installation. Hardware is included along with easy-to-follow instructions.
AIRAID Modular Intake tubes are built specifically for each make and model, and are compatible with stock intakes as well as all other AIRAID intake systems including the QuickFit Series.
DETAILS:
Easy installation hardware included
Increases air flow by up to 400 cfm
Compatible with most AIRAID intake systems
Installs in within minutes
Enhances air flow from stock air box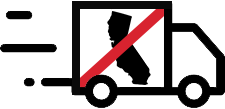 This product is not available for sale in the state of California.