Airaid Junior Air Intake System
300-786 / 301-786
The AIRAID Jr. Kit targets the restrictive elements of factory intake systems, the intake tube and the paper filter, in order to help boost horsepower and mileage.
This air intake kit offers a simple, economical introduction into the performance aftermarket with the introduction of an AIRAID Premium Direct-Fit Replacement Filter and an AIRAID Modular Intake Tube.
As with other AIRAID intake systems, the AIRAID Jr. Kit helps to straighten and improve clean air flow to the engine for added throttle response and increased horsepower and torque.
Each kit is custom made to fit specific vehicles and is easy to install and requires no drilling. Unlike stock paper filters, AIRAID Direct-Fit Replacement Filters are washable, reusable and fully backed by the AIRAID No-Hassle Lifetime Warranty.
Just bolt it on and go!
Oiled or Dry:
You can choose between an oiled or dry filter, furthermore the dry filters come in your choice of red, blue or green. Both oiled and dry filters offer the same great protection and performance for your filter and both are reasusable. The dry simply doesn't require oiling after cleaning and comes in a selection of colors.
DETAILS:
Superior horsepower and acceleration gains
Replaces stock intake tubing, air filter and air box (where applicable)
Easy to install using commonly available tools
Washable and reusable air filter media
No Hassle Lifetime Warranty
NOTE:
Not legal in the State of California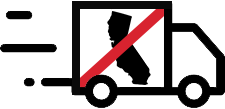 This product is not available for sale in the state of California.