21-8211DP | 21-8211DC
Increased horsepower
Tuned and dyno-tested to improve acceleration and engine sound
Low restriction aluminum tubing
Easy to install using commonly available tools
Air filter lasts up to 100,000 miles before cleaning is required (depending on driving conditions)
Washable and reusable oil-free filter media
AEM Lifetime Limited Warranty
The AEM Brute Force HD Diesel Air Intake System produces horsepower and torque gains for diesel engines by replacing the vehicle's restrictive factory air filter and air intake housing.
Air enters the system through an extra-large AEM Dryflow synthetic washable air filter for outstanding air flow, filtration and performance. The air filter is located in the original air box with a replacement AEM embossed lid which is designed to protect the filter from engine bay heat and increase horsepower.
The intake tubing is an aerodynamically engineered and highly durable polyethylene tube. This air intake system was developed to accommodate the engine's factory emissions control devices including the mass air flow sensor. The oval cylinder shaped AEM Dryflow air filter is made from an oil-free, synthetic filter media that can be used for up to 100,000 miles before cleaning is needed (depending on driving conditions).
The air intake system is backed by AEM's Lifetime Limited Warranty.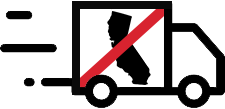 This product is not available for sale in the state of California.